As I started my new chapter this year, one of the experiences I wanted to create was a monthly kinky event.  I wasn't interested in organizing a party but more of an experience especially a bonding one for my FemDomme sisterhood  The idea would be a once a month (full day) themed group experience.  This would allow the FemDommes to enjoy more doubles (we all love them) and for vetted subs/clients to enjoy a discounted opportunity to experience a double and/or meet a new FemDomme they wanted to play with.  The experience would be very reminiscent of the good parts of being at a "house" – all the ladies hung out in the office, ate, talked, and got ready for our sessions.
Our first event was called "Pain Slut Saturday" and the focus was exploring pain – for some it was intense corporal but for others it was pushing their pain limits just a little.  We had experienced "pain sluts" to novice players who wanted to understand pain play a little better.  Remember, all activities exist on a spectrum and the experience does not need to be extreme for someone to engage in an activity.  It was such a fun day especially for all the FemDommes.
Our second event was called "Transformation Saturday" and the focus was various forms of transformations from bimbofication, sissification, gender play, clowning, and animal play (of course there are any ways you can transform someone).   The amount of laughter that was happening that day was just pure happiness and joy.
I haven't been able to organize one recently due to travel or clashing schedules but I do hope to schedule one for my birthday month June.  I think the theme will be – whatever Mistress Lucy wants to do.  Oh wait I do that anyways 😈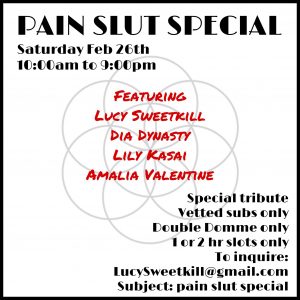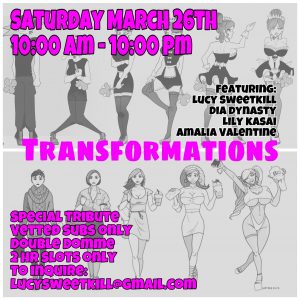 ***Note to readers: I like to write in a free flow manner without editing much***