When I see my shinegurl, all I can do is smile.  There is a purity in our relationship – the essence of what S&M is at its core.  There is no "power exchange" as Ive always held the power and he always knew his place.  There was never any negotiating – only acceptance that I was the Sadist and he was the masochist.  I never tried to "own" him as I knew he was not built for that.  He gave me his flesh…completely… fully…and that was all I needed. Two pieces of a puzzle that fit perfectly.
My relationship with my shiengurl is immensely complex but at the same time the most simple and clear.  It feels like we are both animals doing exactly as nature intended us to do – no reasons why but just who we are.
Words from shinegurl:
Each time is different. Daddy Lucy Sweetkill is a Mystery. Does She plan? Does a plan come to Her randomly or while Ubering to a session? Or does She have plans stacked up on top of each other to the vaulted ceiling, and Her body just picks one without thinking?
Daddy Lucy leaves designs over my entire body with the Fury of Her Whips. But the Way She does it varies infinitely. Her Desire often plays with my fear, then pushes that into my acceptance, then my love & joy, and final exhaustion.
But this last session She turned me into a catatonic moaner with the rhythmic layering of delicate snaps, forehand and backhand, metronomic, until i was a desirous imbecile.
i could not scream from Her attack. Everything came out in moans and a type of paralysis, twisting me into hanging pretzel shapes. They came in two's, Her casual forehand-backhand snaps, so effortless, so graceful, that I could watch in the mirror.
She moved in front of me, the desirous imbecile, on my knees hanging. Her body of androidal rubber took the heat from my face, the breath from my body. Slowly She calmed me.
"But we're NOT done yet!" A chuckle, and the pleasure-suffering renewed. She moved behind me. Long double-strokes dug into my back full force, backhand-forehand long X's, up over my shoulders, whip-whip. i couldn't see Her. i don't know how She did the long double-strokes so quickly and with such force. The pain was delicious. i tried to scream, but only long moans would escape. i could not scream from the pain.
As always, Daddy Lucy Sweetkill took me beyond exhaustion. But it is the first time i remember NOT screaming with Daddy. And THAT is painful. Painful desire. Erotic sadism. Another type of Daddy love!
Thank You, Daddy!
Your shinegurl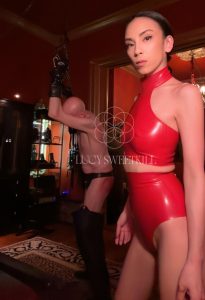 ***Note to readers: I like to write in a free flow manner without editing much***